In Loving Memory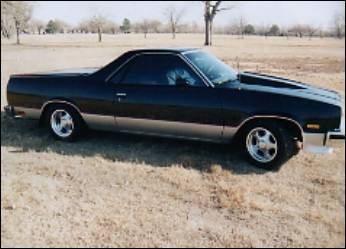 Clarence and Mary Ann Sauer's
1985 SS El Camino
I am probably the oldest member of the Wichita Area Chevelle Owners. I have children most of your ages and also grandchildren some of your age.
My endless love for wheels: I was fourteen when I bought my first car. Get this – a 1939 Plymouth with a flat-head Ford engine. That was in 1947. I had the cylinders bored out, the heads milled down and a few other modifications. The motor was about the only good thing on the car. The floor on the driver's side was rusted out. You could lift up the rubber floor mat and throw out the beer cans. I worked all summer to pay for that old car, which was $90.00.
We would go out on a lonely strip of black top and race. The bet was usually $2.00 or a case of cheap beer. Most of the time we couldn't pay off.
We had four drive-ins in Wichita. The Bungalow, The Highlander, Kenny's, and Winters. Just Like you see on the TV shows.
The thrill is still there. Drag Racing at Ark City and maybe on a lonely stretch of black top.
Between pick-ups and cars I have owned 67 vehicles. My first show car was a 1949 Dodge coupe. I bought a brand new 1957 Chevy 2-door hardtop with 47 miles on it and the first thing I did was go to the drag strip and race it.
We enjoy the friendships in the club and appreciate being allowed to bum around with you younger guys and gals. It helps us fell young again and keeps our memories alive. Ask your grandparents about "Yesteryears". They will remember and be glad to share, especially if they were interested in cars.
Now we are enjoying our 1985 SS El Camino. Mary Anna says there is a convertible in her horoscope in the future. DONATIONS APPRECIATED!
Thanks for putting up with us