Jerad Krueger's 1972 Malibu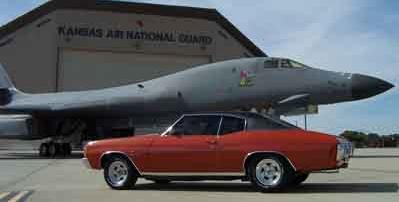 Jerad Krueger's 1972 Chevelle

I bought this car in 1988 at the age of 18 from the original owner. I immediately swapped out the Powerglide for a used TH350. I found some SS wheels and painted them aluminum instead of the original gray. I then had it painted the original 72 Flame Orange with a hint of gold flake and clear coated at the Chevrolet Dealership where I worked in the parts dept.

Original car was a 307 2-barrel, Powerglide, 10.2" rear end with 3.08:1 gears with 53,000 miles. I kept it this way until 1994 when it rolled 100,000 miles. Up on jack stands it went with these modifications:

GM Cowl induction hood, American Racing AR-23 wheels, 9.5 to 1, 3.55:1, 1.94/1.60 heads, Edelbrock RPM intake and 750 carb, ceramic coated Dynomax headers, Flowmaster 2.5" mandrel exhaust tubing with H-pipe, Dynomax ultra welded mufflers, New TH350, B&M shift kit, 2800 stall, 12 Bolt with 4.10:1 Positraction, Boxed control arms, SS front and rear sway bars, VDO tach, shift light and gauges, MSD 6AL.

In Nov 2001 I over-revved the motor because I misplaced my 6500 RPM chip after swapping it for a 3000 to take the car for tires and an alignment. I forgot I had no chip and was hot rodding early one morning. I hit a wide white painted line for a cross walk that was wet with dew. I saw the tach go past 7500. A rod bearing didn't survive. So I upgraded.

This motor is a 10.0 to 1 383 stroker with 2.02/1.94 heads, same intake and exhaust, 3.31:1 gears with a 2200 stall. I thought the gear change and stall would make a better daily driver. I wanted to drive the car more, and with the 4.10:1/2800 stall combination it was expensive and hard on it. I also added new carpet, bucket seats and a B&M ratchet shifter.

I have only seen one Chevelle like mine in the 16 years I have owned it. I was driving north on I-35 through Iowa and they were driving south. We almost ran off into the ditch at 70 MPH staring at each other.