Aaron Hover's 1970 Malibu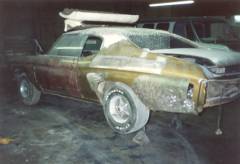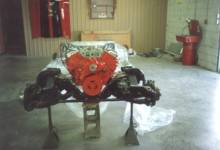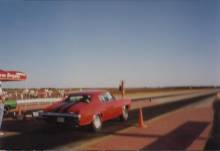 Aaron Hover's
1970 Chevelle Malibu
When I lived in Bartlesville, OK., my next-door neighbor, Jim Ballenger, owned a body shop. He had this Chevelle in his shop, and it was headed to the junkyard. Probably to be crushed. At first I wasn't really fond of the Chevelle. I was a Camaro fan. However, it grew on me and I decided to buy the car. I was only about 13 years old. My Father said he would help me pay for putting it back on the road if I paid for the car myself. My neighbor gave me a really good deal. For $1200 I received the car, the paint and bodywork and he also built the motor. He was an enthusiast also, however he was a Mopar man. He had even worked with Sox and Martin for a little while.

The plan was this would be my school car. As you can see we got a little carried away, so I never drove it to school. It took about 7 months to get the car in the condition you see it in now.

The car was originally an SS 396 car. Since there was no motor or transmission with the car I was free to do what I wanted. My dad knew a Corvette man in town, by the name of Bill Mock. He had a 1970 LS6 motor for sale. After a thorough rebuild, that motor now rests between the fender wells of the Chevelle, coupled to a Turbo 400 and a 4.11:1 Positraction rearend. The motor is pretty stock with the exception of a roller valve train. I have taken it to the drag strip a few times to see what it would do. My best time was a 12.20. I think It would go into the 11's, but I don't want to tear it up trying.

The pace car in the back ground of one of the pictures was my school car. Unfortunately I had to sell it to pay for college. Anyway, this Chevelle restoration gave my dad and me the chance to spend time together, and keep me out of trouble. For that reason I consider it partly his car as well. Plus he helped me with a lot of the costs after I bought the car.